About Us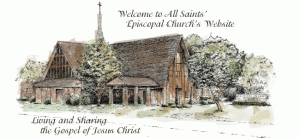 Here at All Saints' our mission is living and sharing the Gospel of Jesus Christ. Founded in 1959, All Saints' is a Christian parish in the Episcopal tradition. We are a Christ-centered church steeped in love and service to God and our community. We encourage thoughtful theological dialogue. Our warm, hospitable parish invites YOU to come and grow!
We are located in Cayce, South Carolina, on the west side of the Congaree River adjoining South Carolina's capital city, Columbia, on the eastern side. It is less than three miles from the State House, the downtown business section, the University of South Carolina's main campus, and the Diocesan House of Upper South Carolina.
A little history...
The first congregation met in a building on State Street across from BC High School. In December 1960, ground was broken to construct a building on Twelfth Street in Cayce. The first service was held on May 28, 1961, in our current Parish House facility. The parish house was named in honor of Rev. Winfield Smith, our first rector. In 1973, All Saints' dedicated its present church.
Schedule of Services
Sunday
8:00 am - Holy Eucharist, Rite I
9:00 am - Sunday School
10:30 am - Holy Eucharist, Rite II
Tuesday
6:00 pm Book Study
Wednesday
11:00 am - Bible Study - The Gospel of Luke
Wednesday
7:15 pm - Adult Choir Rehearsal
---